This is an idea to help keep your cats safe and reduce the risk of injury for homes with stairs. I recently moved and my new place has an exposed stairway with a decent drop down to the first floor. I was worried about my cats slipping off this high ledge and falling 12 feet down to the stairs below. They constantly run across this and I've seen a couple of close calls! I've noticed this especially when one is sneaking up the other and they're making a quick escape.
Since a lot of people have stairs similar to mine, and this solution is inexpensive and simple to install, we thought this would be a fun process to show.
First I'd like to say this is a personal project I did in my apartment and I'm not 100% sure how safe this method is. My stairway has a far drop down from the ledge, so I'm very certain it's safer than nothing.
Since I'm not going to drop my cats on the net to test this, please install this stairway safety net at your own risk. 
At first, I wanted to mount our cat Shelves and Hammocks in this area to act as another ledge if they slipped. Ultimately I decided against this because it would promote them to jump around the stairway. If you'd like to see the final results, the end of this blog has a video that shows the "Crash Test Kitty" weight test.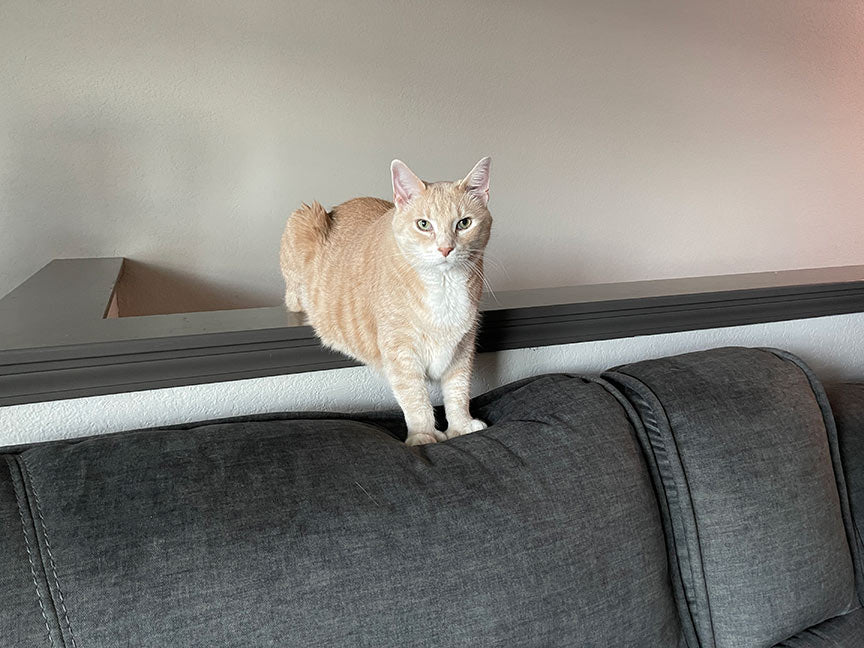 *As a side note, Joann Fabrics has this really cool cork fabric material that's normally used for handbags and shoes. This fabric also doubles as a great cat-friendly material! It's almost like faux leather fabric and stays together. It works really well to provide traction and rip-off from their claws like a regular cork does. I'm in the process of hot gluing this fabric around the stairway as well.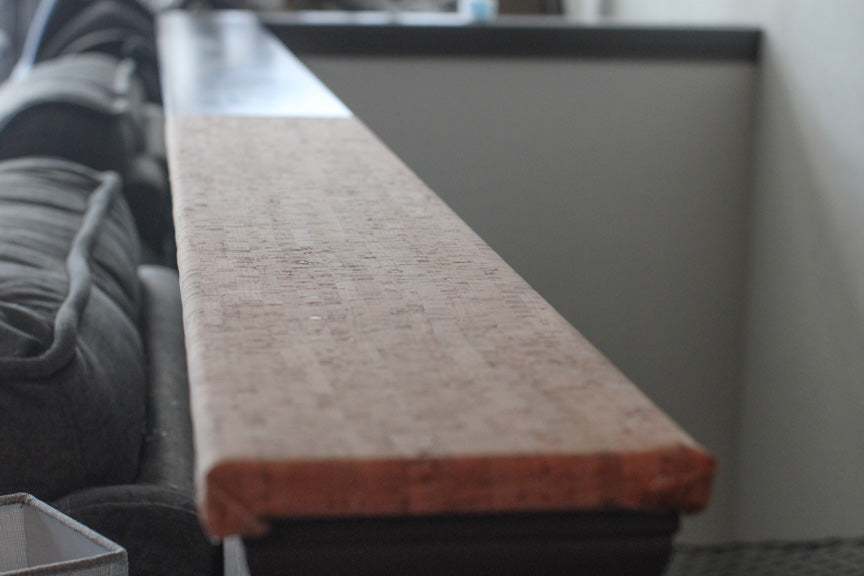 I decided to go with netting because the cats can see through it and I thought it would deter them from jumping down to investigate. I also wanted netting that had a stretch to it. This was because I wanted it to slow the fall if a cat did fall, and I needed it to stretch to either side of the hallway.
When I was looking for the perfect netting, I wanted the smallest netting holes I could find so there was no chance a cat would fall through after it was stretched out. Also, I needed something that covered most of the width of the space, which is 41.5″ (105 cm). Preferably, the holes would be even smaller than the ones in the netting I found. These are around 1″x 1″ after the net is stretched out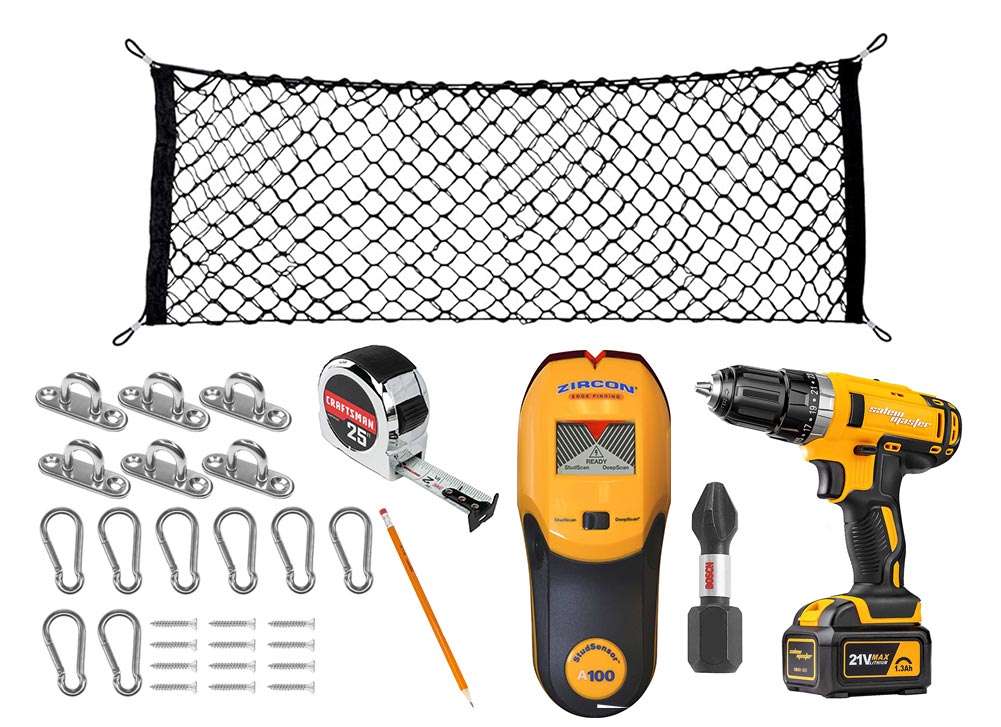 Between the 2 nets and metal hardware, it only cost me around $43. I already had the tools like a drill, stud finder, and measuring tape.
Electric drill
Philips bit
Measuring tape
Pencil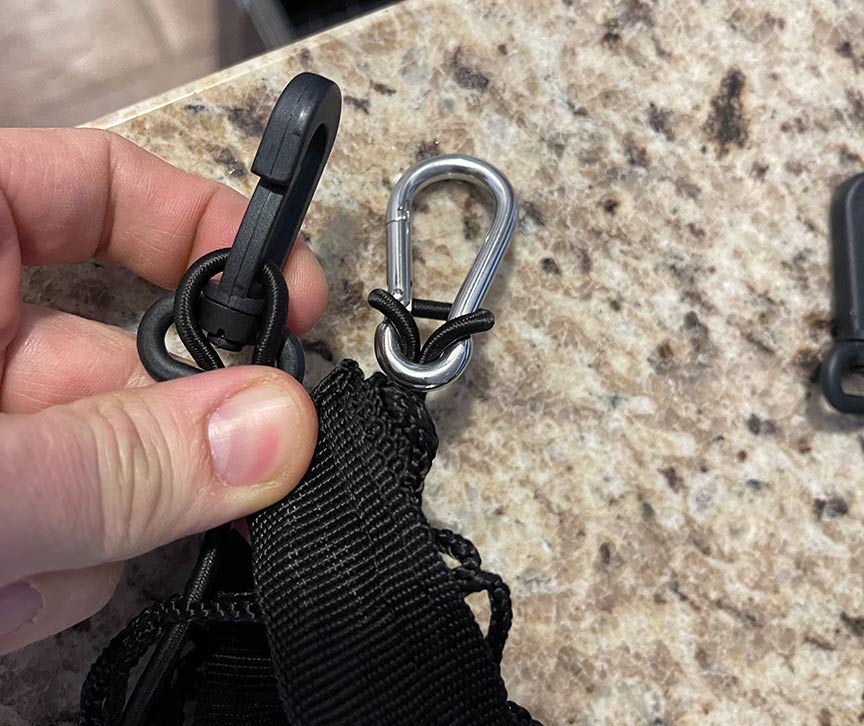 After a pretty thorough search, I found a netting that I like a lot for this. These are from Amazon and are used to hold down cargo in the back of SUVs. They came with plastic clips but I switched those out with stronger metal carabiners.
 The net had to be low enough to where it would deter the cats from jumping onto it, and high enough so that people didn't need to duck while walking up the stairs.
I ended up leaving around 7 feet of clearance for the walkway. With a 5 foot drop down to the netting, hopefully, that's far enough so that a cat wouldn't try to explore. This configuration has been successful so far, I've had this up for 4-5 months and I haven't seen either cat on the net.
To mount the initial U-hooks, I was looking for studs that were the closest to the corners. What's nice about how most stairways are made is that they have a section perpendicular to the wall that creates the ceiling on the lower level. Anytime there's a corner like this, you can expect to find a stud because that's what supports the corner. Using the stud that runs horizontally along that corner, I installed two U-hooks, one on each side of the stairs. 
One drawback I've noticed is at this height, if a cat does fall down, they would need to hang out on the net until somebody helps them down, or jump, which is still a bit of a drop. Even with that, it's a much shorter distance than from the very top of the ledge.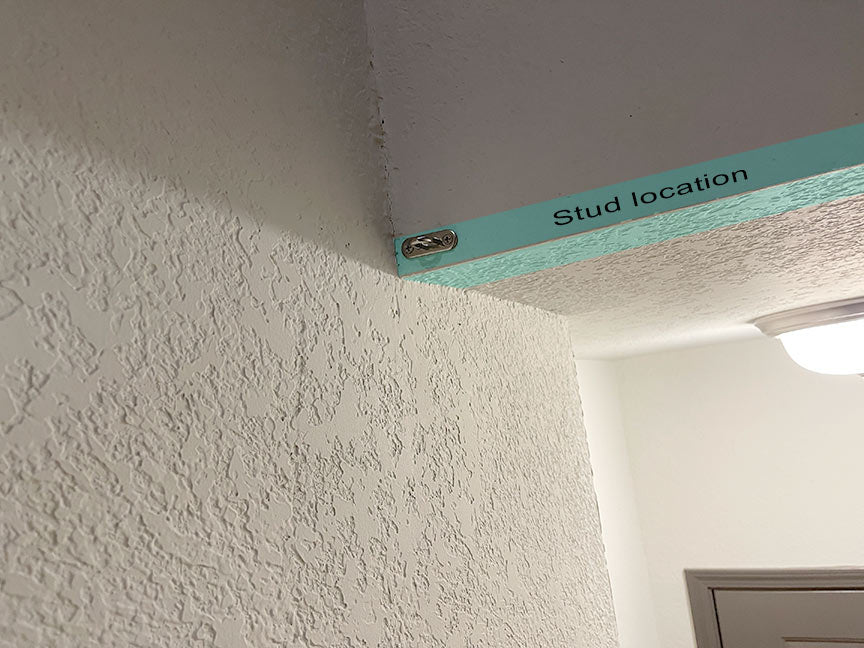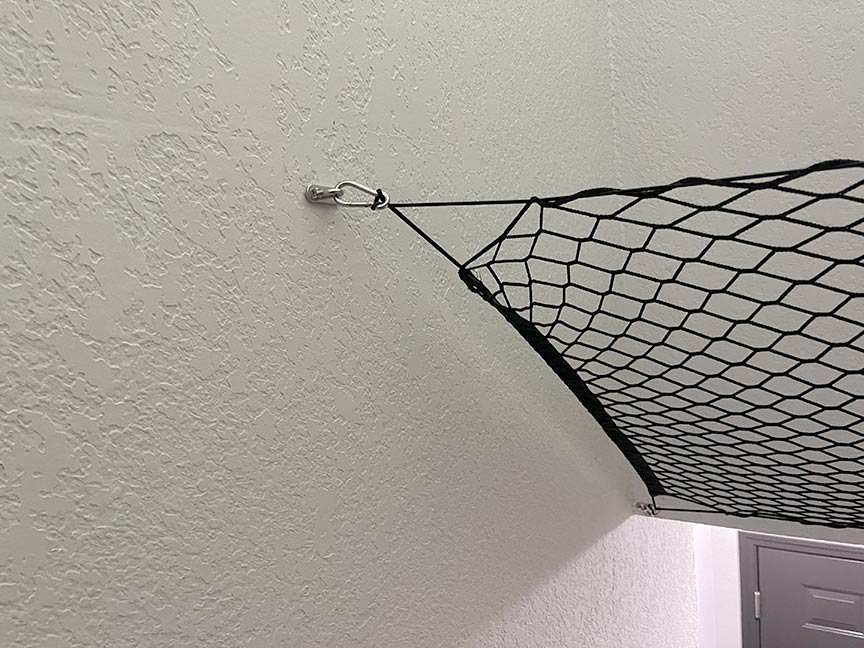 2. Using a stud finder, I pulled the netting backward, stretching it up at the same angle as the stairs. I then measured the same distance of 85″ up from the steps and installed the next U-hook into a stud.
The first time I mounted this, I had two of the brackets held in with drywall anchors. If a cat does fall, I thought the force would pull the bracket from the side rather than directly out. I didn't think this would cause the bracket to rip out of the wall. Also, if a cat did fall with enough force to pull the bracket out, it would still cushion the fall between two levels, rather than falling directly down 12 ft.
Once I realized how heavy the test kitty was, I was worried that the weight from dropping him would rip the mounting points out and explode brackets on the stairs if I used the drywall anchors. Our test kitty is a stuffed animal full of metal brackets, and he feels incredibly heavy because the weights are all centralized.
I decided the best solution was to use the studs for all mounting points
3. To install the last set of U-hooks, I used the stud finder to locate the 2nd stud over (32″ total) and then lined up the vertical position so that all 3 U-hooks would be aligned.
As I said, these haven't been tested by my real cats yet. I do have slight worries about what may happen if one of the cats actually falls onto the nets. I hope this never happens, but there is a chance that the net may act as a catapult, tossing the cat out, and possibly sending them into the wall or tumbling another 7 feet. 
Even if bouncing out isn't an issue, due to the angle of the nets, could the cat possibly roll right out once they've landed? 
Since the net is so stretchy, it sinks in lower around the cat as they land, keeping the kitty in place. Even if one of the cats rolls out of the net, the drop has been reduced to 7 feet. This is a much safer jump for my cats if they ever find themselves in this position. Regardless, cutting the total drop in half is a win.
Crash Test Kitty - 15lbs (6.8kg)
Every stairway net experiment needs a test subject, and that's where Terrence came into the picture. Terrence is a pretend tabby who we filled with 15lbs of steel brackets to replicate the weight and approximate size of a real cat.
Even though he's only 15lbs, he feels a lot heavier than my 18lbs cat. I think that's because the weight isn't distributed evenly as you'd expect with a real cat. He's built like a bowling ball, so keep that in mind when you notice how violent his landings look in the video. I don't think this would be as much of the case if a real cat were to fall onto the netting.
Below is a video made of the weight/performance test.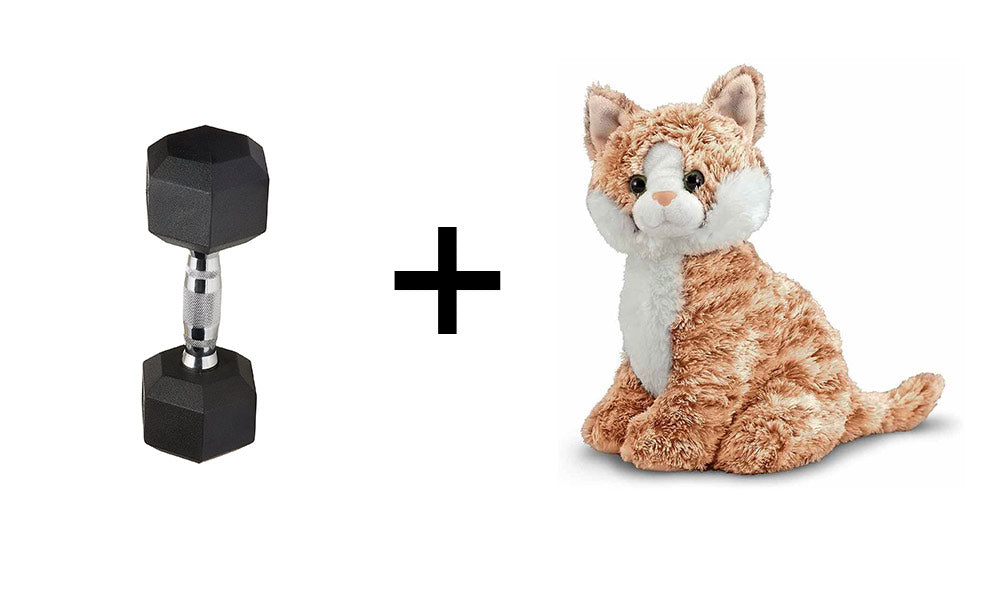 Exercise is important to keep your cat healthy. This blog list suggested treats, toys and methods to get your cat moving around. Getting this essential exercise is not only good for your cats physical health, but it's also a great source of enrichment. Read more…
Staying active is an important part of your cat's physical and mental health. Oftentimes indoor cats live lives that are understimulated with days full of sleeping and lounging around the house.  Read More…