Cats bring with them a unique set of behaviors to any household. While most behavior issues will be an expression of your cat's natural instincts, always start with ruling out medical problems with your vet. Some behaviors—like aggression, over-grooming, inappropriate elimination, etc.—can have roots in a medical issue. Once your cat has been deemed healthy by your vet, you can look into training as a treatment for behavior issues. While feline behaviors can be complex, the aim of this article is to provide a short list of common behavior issues, along with a few common solutions. The gold standard for addressing behavior concerns is speaking with a veterinary behaviorist or certified cat behavior consultant, both who will be trained to look into your cat's unique behavior issue.
Some common behavior issues are listed below. Along with the recommended positive treatment options for your cat.
Rough play and play biting is a normal developmental behavior in cats.  At these early ages the kitten learns how and what to play with, developing lifelong habits as well as honing in on mini cat physical abilities. This can become a problem when they get carried away and leave you with scratches and little tooth scrapes. To help set your kitten up to learn healthy habits, or help an older cat reduce rough play, here are some options.
toys
, perches,
scratching poles
, outdoor enclosures, leash walks, training sessions,
food puzzles
, as well as easy things like paper bags and boxes to explore. What you practice you get better at and the same goes for cats. Help them practice a healthy variety of behaviors with lots of feline stimulation.
play a few times a day. Keep play fun but not totally out of control and funnel your cats instinct to the
toys
, cat lures, crinkly toys, catnip filled balls, etc. Try to keep the toys fun, interesting and new or different each day.
as tempting as that might be. Remember kittens will grow up and even at that young age the behaviors they learn will turn into adult versions later. If you want to play with hands, calmly redirect that behavior to a toy.
can trigger us to instantly become more rough or defensive, but try to calmly end play if you do get scratched or bitten. Punishment or continued rough play will intensify the behavior issue, either by increasing the frenzy or actually scaring your cat away from healthy play later.
Scratching is a natural behavior for cats, used to mark their territory, stretch, and nail care. If your cat is scratching objects that you prefer it wouldn't, you can redirect the behavior by providing scratching posts and other toys your cat can dig its claws into.
Compulsive licking in cats typically stems from pain or stress. While all cats lick to groom themselves, excessive licking may be serious and result in hair loss and skin problems.
Cats express the roots of their wild relatives when they are more active at night. They can be very vocal and loud, which can be disruptive to someone sleeping. Nocturnal animals can successfully switch their sleeping schedule to match eating and household activity and synchronize sleeping times and here are some ways that may help.
Cat taking another cat's
food
This is when cats become interested in another cat's food and try to eat that cat's food during mealtime. This can result in stress and conflict as cats fight over resources. Here are some ways to help prevent these food related problems.
Cats love to climb and they jump onto counters for many reasons. Here are some common reason and way to help in this situation: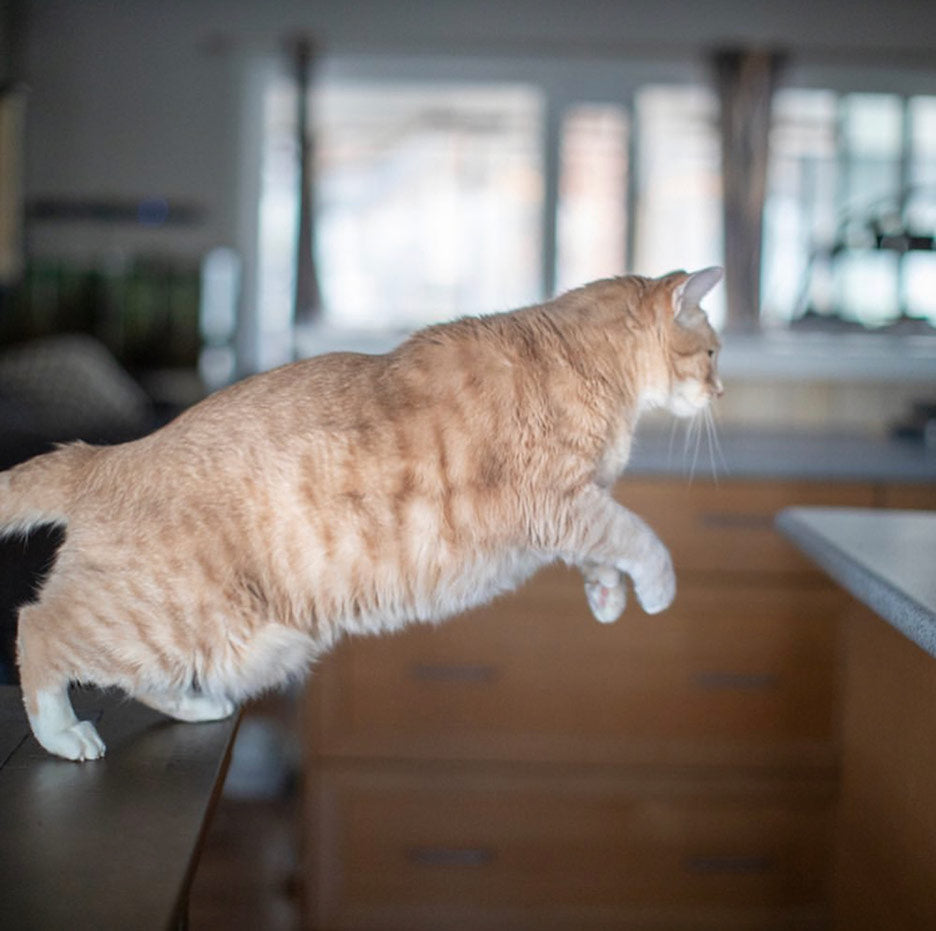 Chewing behavior in your cat may be caused by a medical issue, boredom, stress, teething in kittens, or disruptions in development in early weaned kittens. After getting the clean bill of health from you vet you can get started.
Your cat may show more vocal behavior when it would like food, to go outside, or to get your attention. Some breeds are also known to be more vocal cats, however cats are individuals and any cat can become vocal. There may be multiple causes, if this behavior is not typical. 
Cats, of course, don't seem to notice any sort of distinction between food for us and food for them and might beg, smack, meow, or even become aggressive to get to the food while you cook or eat. Here are a few ideas to help:
These are just a few common behavior issues cats present you with, if you are having a serious issue with your cat a veterinary behaviorist has help. To find a vet behaviorist near you at the The American College of Veterinary Behaviorists
Kate Wilson is the Director of Training at K9 Turbo Training. Her lifelong passion of observing and studying animal behavior led her to be a Certified Professional… view Kate's full profile here.